Time to relax and unwind! Unlock the Healing Power of your Patio!
Your house, your kingdom, has everything on point! Themed living room, meticulously designed bedrooms, a cosy balcony, BUT A NOT SO WELCOMING PATIO! And that's the reason your Sunday mornings and evenings aren't lively or magical anymore.
Tingggg!!! It's revamp o'clock! To help you make better memories, from sunrise coffees to moonlit toasts on your patio, we've popped up with our stash of patio decor ideas. Try them out to craft a space where laughter is Born, bonds grow stronger, and life stories unfold.
Let's officially kick in!
Patio Upgrading - Unveil 20 Stunning Styling Patio decor ideas
So here comes the list of ideas to transform your patio from a deserted spot to the centre of the house where quality time is born.
#1- Tropical Paradise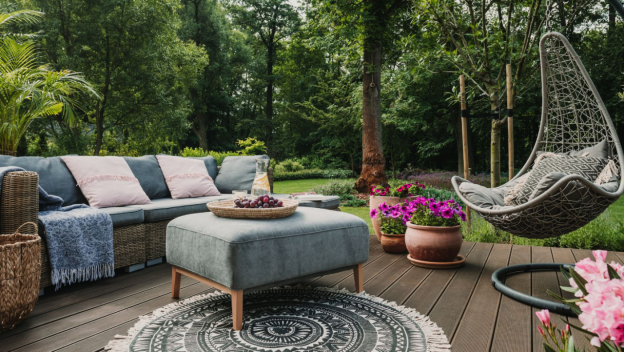 Things You Need To Use:
Floral Pots
Ottoman Furniture
Woollen Throws
Round Outdoor Rug
Transforming a patio into a vibrant work of art can be achieved using vivid flowers and lush green plants as a palette. Utilize various pot heights for dynamic displays, incorporating a variety of floral plants. For an enchanting touch, hang floral containers and baskets like Angel's Trumpet from fences and ceilings. Tall plants create a beautiful aura, boldly bringing in the tropical element.
Puffy furniture, ottomans, and throws are the best additions for the snuggly effect. Alternatively, mixing wrought iron or painted furniture for depth, arranging pots in gravel beds for a layered effect, and rattan add-ons elevate the atmosphere. This flower-filled paradise turns a patio into a canvas bursting with natural beauty.
#2- Bohemian Retreat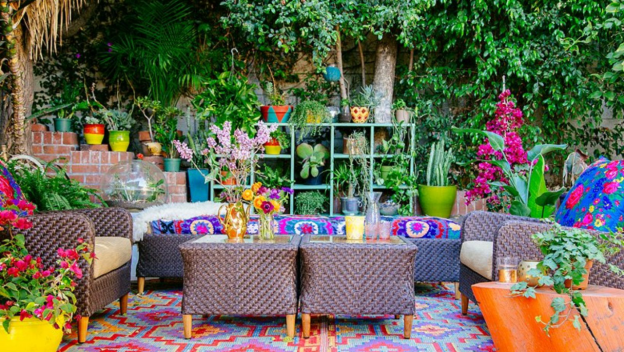 Things You Need To Use:
Hand-Painted Pots
Wicker or Rattan furniture
Wooden Pieces
Patterned Area Rugs
Boho Trays
Plush cushions
Embrace the carefree spirit of the Bohemian theme, and let your creativity run wild! Say goodbye to subtle and calm themes to see life running in the patio. A boho chic patio will surely make it the town's party life centre.
With its eclectic mix of colors, patterns, and textures, the Bohemian style invites you to break free from the ordinary and infuse your space with personality. Picture vivid tapestries adorning your walls, plush cushions across cozy seating, and an array of plants that bring life and energy to the patio.
So, dive into the world of Bohemian chic, where the mantra is simple: live freely, design boldly, and surround yourself with the beauty of imperfection.
#3- Patio Serena — The Rattan-Pea Gravel Affair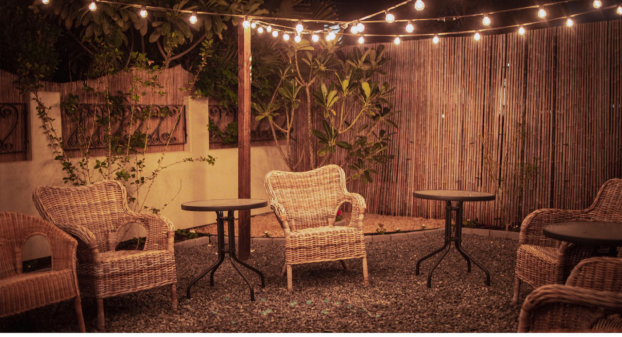 Things You Need To Use:
Rattan Minimal Furniture
bamboo fence
String Lights
Side round wooden tables
Rattan Fencing
Imagine a trendy outdoor retreat - a patio adorned with the understated elegance of rattan minimal furniture, resting on a soothing bed of pea gravel. A handful of lush greens, carefully chosen, bring a touch of nature's serenity. A bamboo fence allows more charm to flow in, making it more serene, and stupendous!
Above, twinkling light strings weave a whimsical canopy, infusing enchantment into your haven. It's a marriage of relaxation and sophistication, where every seat beckons you to unwind. This is where conversations flow freely, moments become memories, and the simple pleasure of being outdoors is elevated to an art form. Welcome to the abode of style and tranquillity.
#4. A Patio for Two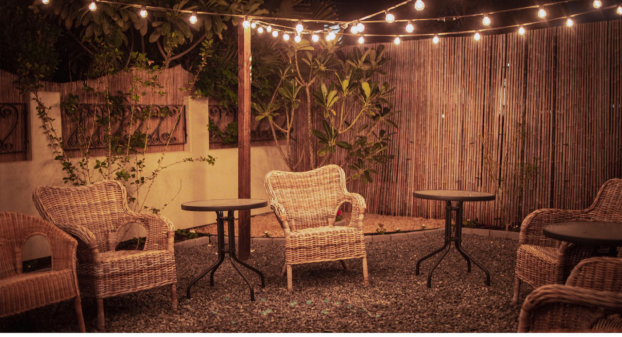 Things You Need To Use:
Weathered Pots
Adirondack chairs
Wooden side table
Small places can be the best rustic heavens! The old-style cemented wall, weathered with character, becomes the perfect backdrop. Make full use of this whimsical backdrop by turning the mini stage into a love nest for two.
Creating dimension, elevating the patio with two steps adorned with plants is more like creating a thorne nestling the King and Queen of their Kingdom. A mix of greenery, like ferns, succulents, or colourful blooms, in weathered pots never fails to turn bland paces into much fancier spots.
This space will exude timeless appeal, inviting you to unwind in tranquillity while enjoying the beauty of your carefully curated plants and vintage-inspired decor.
#5. Zen Sanctuary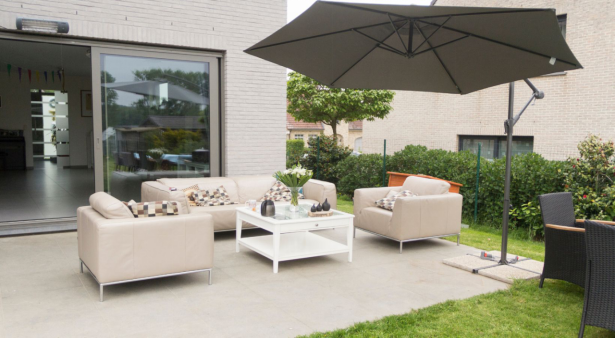 Things You Need To Use:
Canopy / Sun Umbrella
Tuffted Furniture / heavily Upholstered
Add-ons like Vases, Aromatic Candles
Outdoor Pillows in Neutral Shades
Step out straight into tranquillity and serenity to enjoy every moment in your own zen sanctuary! Nude palettes have been ruling the designers' minds for a while. What compliments neutral palettes more are the heavily upholstered furniture pieces that, together with the tone, enhance the atmosphere by many folds. Setting the Gen-Z tone with this pattern never fails to impress.
Patios nestling, comfy and snuggly furniture are definitely the places all worth it. Filling the gaps with relatively lighter tables and adornments complements the overall setting. And above all, adding a canopy does all the justice and final touches.
Lush green lawns or bushes around this neutral affair can definitely set the ambience on fire! Try it out!
#6. French Countryside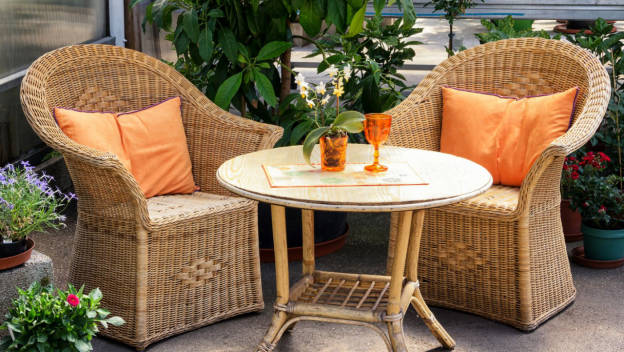 Things You Need To Use:
Plush Cushions
Rattan Furniture
Iron Accents And Vintage Lanterns
Time to let the idyllic charm of the French countryside kick in with a captivating theme. Begin with inviting rattan furniture adorned with plush orange cushions or patterned throws for a touch of warmth. Underfoot, a bed of pea gravel sets a rustic tone, complementing the serene ambience.
Elevate the charm with an array of flower and plant pots brimming with lavender, roses, and geraniums, infusing the air with their delightful scents. Wrought iron accents and vintage lanterns add an antique allure.
This picturesque patio invites you to relax and savor the essence of rural France, where the harmonious blend of rattan, pea gravel, and vibrant orange accents creates an enchanting and timeless outdoor retreat.
#7- Moroccan Lounge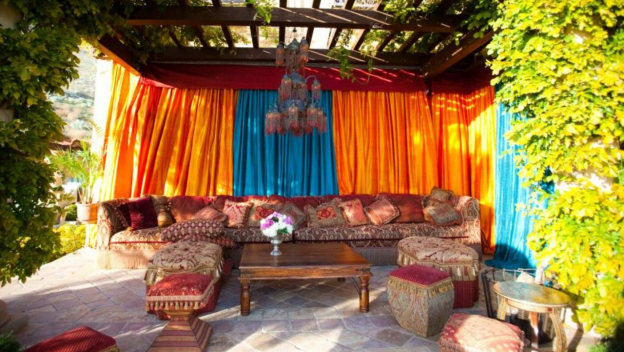 Things You Need To Use:
Bold hues, heavy furniture, ottomans, carpets, rugs, chandeliers, and embellishments! The Moroccan theme is a sight to watch. Characterized by a rich culture, the Moroccan setup brings so much to the table.
A patio with this theme takes you thousands of miles away into the Moroccan desserts to relax and unwind. Adorn your patios with the unapologetically bold Moroccan theme. Don't be afraid to blend neon colors for the backdrop. One thing is for sure! The Moroccan patio doesn't welcome any neutral shade. Let the colors tak the central stage!
#8- Beachfront Bliss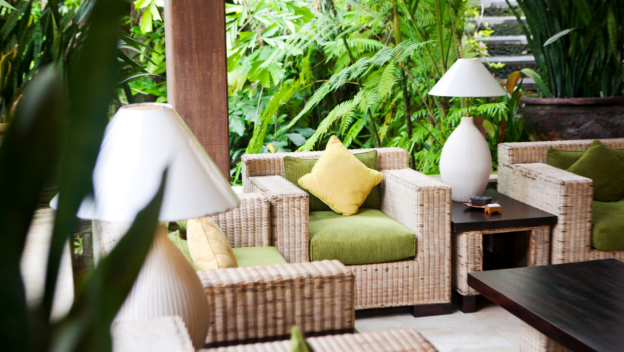 Things You Need To Use:
Rattan furniture
Plush cushions in Warm Tones
Lamps
Palms of Varying Lengths
Rugs in Natural Tones
No more vacay blues!
Bring that beachfront bliss to your patio to cherish your vacation vibes forever. Trendy furniture, plush cushions in heartwarming tones, and lots of plants! That's it. Besides, Potted palms do wonders. Surrounding the patio with potted palms in varying heights is – oh so heartwarming!
The beachfront theme is all the VIBE in itself if rightly done. Incorporating nude and warm pallets with high-quality, weather-resistant, can furniture, rugs, and tropical plants is the safest option if you miss the hotel lobby facing the sea. Add more craze and cosiness by incorporating rugs to complement the theme.
#9- Modern Minimalist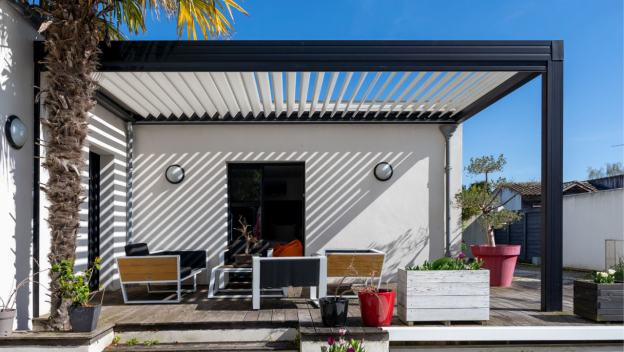 Things You Need To Use:
Sleek Furniture
Monochromatic Plant Pots
Minimalist Rugs
LED Elements for Walls
A Few Carefully Chosen Plants
Welcome modern minimalism on your patio for a sleek, uncluttered retreat. Opt for clean lines and neutral color schemes in your furniture and decor. Choose streamlined, low-profile seating with simple, geometric shapes. Create a sense of spaciousness with strategically placed elements.
Minimize plantings to a few carefully selected, sculptural plants in sleek, monochromatic pots. Employ outdoor rugs with minimalist patterns to define the space. Illumination comes from discreet LED lighting or pendant fixtures with clean, contemporary designs.
This approach transforms your patio into a serene, understated sanctuary where simplicity reigns, allowing you to enjoy the beauty of less.
#10- The Dreamy Retreat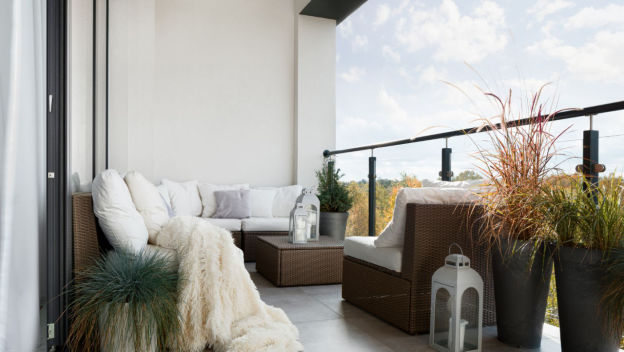 Things You Need To Use:
Low-Heightened Furniture
Cozy Woollen Throws
Lanterns
Big Planters
Scented Candles
Clean lines, a nude palette, and minimal elements define the dreamy retreat you've been longing for. These days minimal spaces are occupying the minds more tha open, wide spaces. It makes the perfect patio that you may call your dreamy retreat if you have minimal space.
Adding low-heightened furniture, carefully chosen plants, cozy woollen throws, and life-sized lanterns elevate the simplicity of your retreat and allow you to savor the serenity.
White is the safest option that never fails to impress! Ore white, more dreamy! So let the white ablaze your tiny patio with passionate dreams.
#11- Cottage Cozy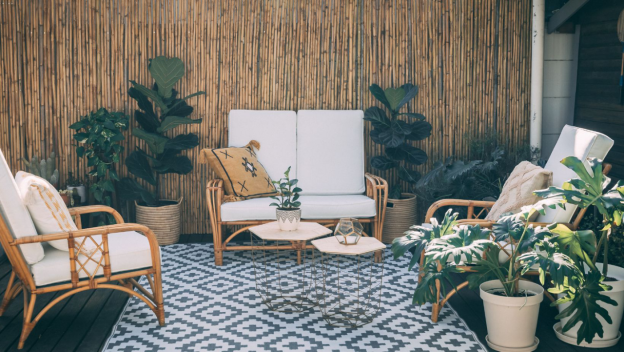 Things You Need To Use:
Bamboo Furniture
Plants Pots
Geometric Black And White Outdoor Rug
Bamboo Fence
Sleek Geometric Centerpiece
Cottages gonna slay forever! Let the old-school charm dazzle your eyes one more time!
The geometric pattern rugs, sleek and minimal furniture, lots of plants tucked in the vicinity, and the bamboo fence — it's the oh-so heartwarming set up closer to the heart because it lands you in the cottage you've been craving for.
A wooden deck accommodating the sleek furniture and plants with bold, big leaves and different shades of green is your ground to play with, making memories. The rugs add more warmth and fill the pace, just like a cozy cottage where every corner is adorned with love.
#12- The Princess's Courtyard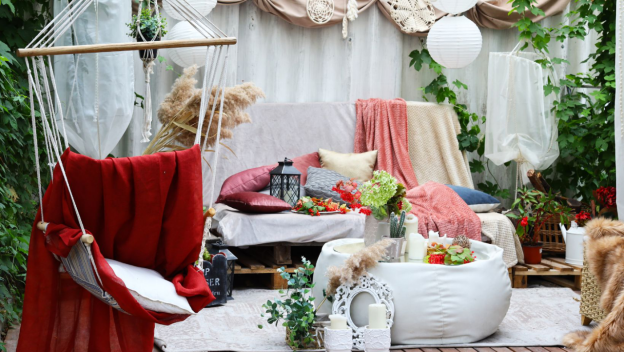 Things You Need To Use:
Hammocks
Colorful Throws
Candles
Cushions
Paper Lanterns
Vintage Frames
Pampas Grass
Outdoor Rug
Low Seating Or Ottoman Furniture
Activate the time capsule, taking you to an Ottoman's Princes courtyard! A blend of spiritual and bold hues, drapes, hammocks, low seating, ottomans, and a flood of adornments explains the princess courtyard so well.
Transform your stale patio into an exuberant affair by picking up this them if you wish to see life and vibrant running in your courtyard. Add vintage frames, candles, pampas grass, rattan adornments, rugs, candle stands, lanterns, tapestries, crochet hanging, paper lanterns, and plants for the original feel.
And go straight for random placements; the more cluttered, the more original, the more authentic!
#13- English Garden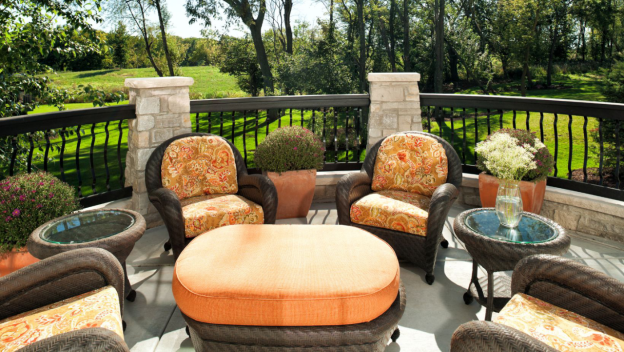 Things You Need To Use:
Classic English Furniture
Printed Cushions if not upholstered in a printed fabric
Add-ons like Vases
Flower Pots / Plants
Enjoy your evening tea in a tranquil haven with an English garden theme. Follow this idea for a more exquisite patio with Classic and sturdy furniture gracing the space, evoking a sense of timeless charm. Potted bushes in elegant containers add a touch of greenery and structure, lending an air of refined simplicity.
An elevated deck offers a unique vantage point, creating visual interest and a cozy retreat. This English garden-inspired retreat allows you to unwind in a setting reminiscent of lush, romantic landscapes, where every element contributes to a sense of tranquillity and natural beauty.
#14- Japanese Courtyard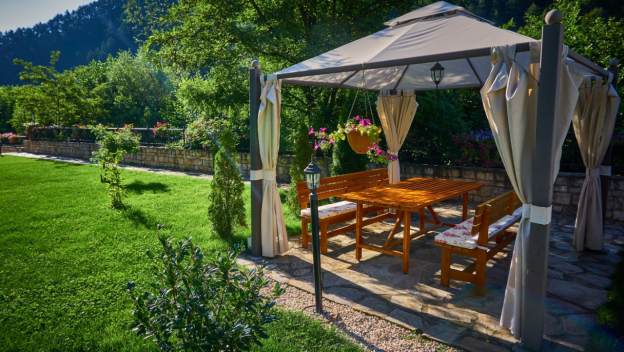 Things You Need To Use:
Lanterns
Wathered Wooden Furniture
Hanging Floral Baskets
Lighting Options
Imagine a serene outdoor oasis with an open, lush green lawn extending as far as the eye can see. Build your canopy in the heart of this lush lawn with a canopy above and the billowing curtains, adding a touch of ethereal charm and gently filtering the sunlight, bringing in more grace. Wooden benches and tables, weathered by time and nature, provide inviting, relaxing gathering spots.
Hanging baskets brimming with vibrant flowers create bursts of color against the verdant backdrop. This tranquil setting offers a harmonious blend of nature and rustic elegance, where you can bask in the open space, find solace beneath the canopy, and enjoy the company of friends and loved ones in this idyllic garden escape.
#15- Bring in the Bricks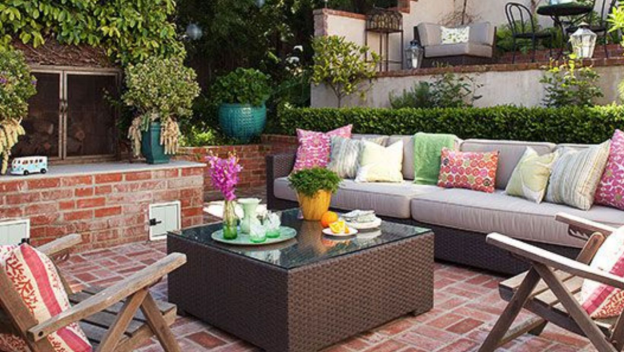 Things You Need To Use:
Rustic Furniture
Classy Furniture particularly Rattan
Plant Pots
Colorful cushions
Fresh, dried, or artificial flowers
Centertable accessories
Believe in grandma's house supremacy? Let the timeless bricks kick in. As seen, the modern tiling has replaced the old-school charm, but gladly, it's returning!
Red bricks are extremely versatile; Whether you stack them, pave the patio with them in a weave basket pattern, or any other design, they'll simply metamorphose your space. Got the flooring problem sorted? Half done? Wondering what's next? Of course, the accessories! We personally love Rattan! It exudes charm and sophistication.
Add classy furniture, shades, a few vines, lanterns or paper lanterns, and plants generously to create an aura that oozes grace and glam. And don't forget to add a dash of black to make it more sexy! This is your patio for a perfect dinner date!
#16- Vintage Inspired Patio Decor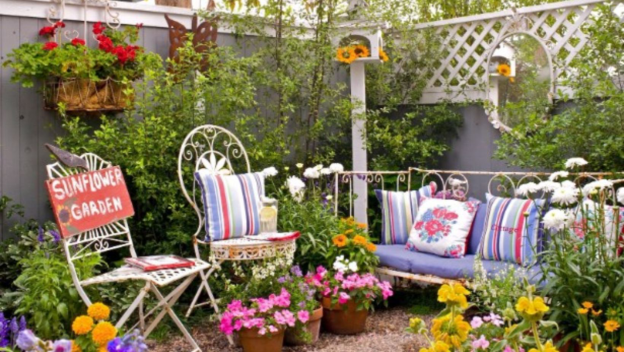 Things You Need To Use:
Wrought Iron Furniture
Fairy Lights
Ceramic Urns
Flower Pots
Vintage Tubs as Flower Beds
Outdoor Pillows in Bold Patterns and Colors
Antique Decoration
Rugs in Vivid Colors
Mirrors
Hanging Baskets
Vintage's the King! it's classy, it's timeless, it's everything if you love spending a few moments in nostalgia.
Oh! Seems like we must share our pro tip here. Get hold of your steering and run to a flea market. Imagine wrought-iron furniture adorned with floral cushions, antique lanterns casting a warm, welcoming glow, and weathered wooden crates repurposed as chic planters. Grab vintage ceramic planters, giant side urns, antique objects for flower beds, and figurines.
Paint your panels and fence in chalk paint in subtle hues to magnify the effect. It will be a patio straight out of a classic movie scene, where every sip of coffee feels like sipping the historical moments of your life. Embrace the past and create your own timeless retreat with vintage-inspired patio décor.
#17- The Rustic Loft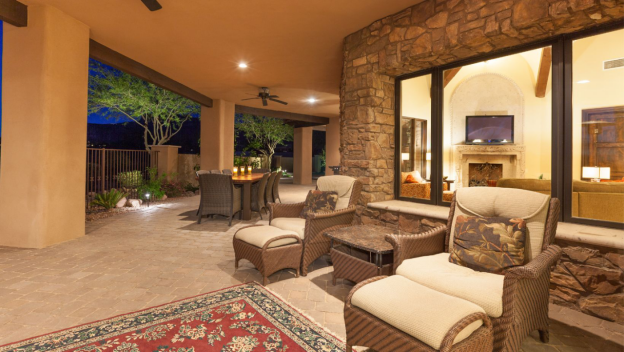 Things You Need To Use:
Persian Rugs
Scented Candles
Classic Furniture
Cozy Throws
Browns have always been associated with elegance. Keep it all brown to magnify the effect. The rustic loft is one of the finest themes defined by clear lines and simple patterns. Not letting go of the old charm, the rustic patio can be more elevated if established beside a corridor.
Accessories it with trendy furniture and ottomans in browns alongside bold rugs in Persian patterns. The earthy tones and bold patterns are a combo to die for.
Adding a dining table to the rustic theme is a common practice that is all worth it. So bring together the dining and sitting area, completing the look by adding cozy blankets, and turning your patio into a rustic retreat.